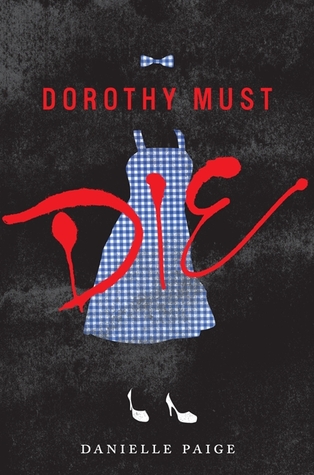 Rating: ⭐️⭐️⭐️⭐️
Genre: Fantasy, Young Adult, Retellings
**spoiler alert**
I made the mistake of reading through the comments once I finished the book. I was not aware of any of the 'drama' that surrounds this book (be it the Full Fathom Five or the Kathleen Hale incident or the whatnots). I have to admit that at first it did cloud my judgement about this book, but then regardless of it all I have to be able to be objective of this book, and I have to say I did enjoy this book a lot. I also have to be honest, I never knew the complete story of The Wizard of Oz, for I have never grew up with that story but I know enough to actually keep up with the dark retellings of the story.
I love how it chose to give a darker shade of what was a cheerful and colourful children's story and although I couldn't even imagine Dorothy being the horrible person that she supposedly was, as the story progress Dorothy sort of fits the new portrayal of her personality. Amy Gumm as the main protagonist might not be likable instantly, but she grew on you. The fact that she was not your typical heroine makes it more likable, at least for me. And although there was definitely a possible love line between Amy and Nox, I like the fact that it never grew instantly into love and more like exploring Amy's own curiosity over Nox (such as whether or not that she likes him or that she looks up to him in this so called mission to kill Dorothy).
I do agree that the plot grew slower as the story progress, and I was a bit disappointed that Gert dies the first time around while I was sorta hoping that she would held a more important role seeing that she used to be the Good Witch from the North, but hopefully there will be a better filler in the next book. I was also very disappointed that it took as little effort as Amy could come up with to actually kill the Tin Man; I do admit that she had already gone through so much to actually finally killing one of Dorothy's henchmen, but come on, it has to be more than that, right? Not to mention, I was kinda hoping that the Tin Man would not be the first one to be killed considering that he had a love interest for Dorothy, maybe he could have hold a more important role for Dorothy? But then again, seeing that the Lion killed Gert and the Scarecrow abused Maude and turned Jellia into a living corpse, maybe there's a reason they are not the first ones to be killed, probably the author was waiting for an epic battle between Amy and the two of them.
Though the writings were a bit messy at times for my liking, I can brush it aside seeing that it pays it back with a very nice twist and story, hopefully the second book will be better.