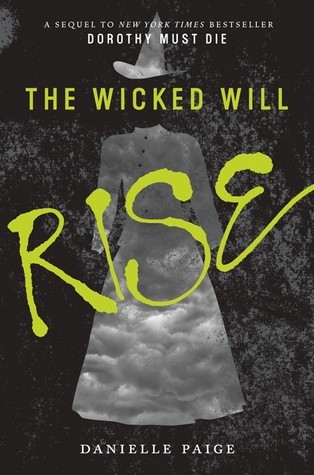 Rating: ⭐️⭐️⭐️
Genre: Fiction, Fantasy, Young Adult, Retellings, Magic
**spoiler alert**
This was a quick read obviously. After waiting for a couple of months, I am finally getting the chance to continue with Amy's adventure (or mission) to kill Dorothy. Although I was very much entertained with Dorothy Must Die, I must say that I still can't get over the fact that the Tin Man's assassination felt a bit bland and too quick. The suspense was built up very nicely throughout the book and it fell short when the Tin Man's assassination happened in less than five pages. But that disappointment was soon replaced by the fight between Amy and the Lion.
I love it so much! I love Dark Amy (although I'm getting the fact that this was not supposed to be a good thing). I feel like the Lion deserves what had happened to him, especially after he ate Star! I love Star! Such a great side kick!
But, I'm going to be honest. There was something about this book that seemed a bit off. I feel like a bit of its spark has gone, it was not as fascinating as the first one. And is it just me or Pete seems to be off? I mean, I know eventually he betrayed Amy, so maybe him being a bit off was explained, but his demeanor just seems to be different compared to Pete from the first book, or I might be reading too much into that. Nox was also a bit off, as in he was not as ass-kicking and awe-freaking-some like he was in the first book. I know he mentioned about being all alone in the Island of the Lost waiting for Amy had caused him to be a bit soft, but it's not just that, he seems to changed. Maybe the fight changed him? If it does, I have to applaud the author. I liked the fact that changes just not only applied to Amy as the main character but to everyone.
I felt a sense of huge relief when Amy decides to behead the Lion and she realised that she didn't feel anything about it; it shows that Amy knew that something changed in her that caused her to be a bit 'darker' than she intends to. I was so happy thus far, until I knew that Scarecrow was already brainless and it wasn't Amy who did it. Come on, he did those awful thing to many others and Amy's friend and Amy didn't get the chance to do something back? Not to mention I was already picturing all the horrible ways the Scarecrow going to suffer after Amy made the promise to Polychrome. Alas, the story was coming to an end, and I must tell you I was pretty darn disappointed that the whole time this was all the Wizard's plot to something bigger? And then, he just dies like that? Ugh, this book starts to get on my nerves.
But, wait! The last part, though. The actual last part when Amy saw the three figure. NOW, that's what I called a great ending with a great cliffhanger!!! Yes, yes, I forgive the author for giving an emotional ride of frustration but I am glad this book end the way it did, but I hate the fact that I have to wait for God knows how long for the next series. Ugh!