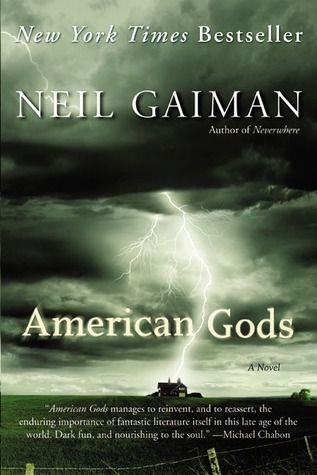 Rating: ⭐️⭐️⭐️⭐️
Genre: Fantasy, Fiction
I was wandering around Buzzfeed when I saw that there will be a series based on this book and Buzzfeed made a list of their take on who should play who in the series; it got me interested as the only Gaiman's book that I have ever read was only The Graveyard Book and I have to be honest I quite like the book. Naturally I went to goodreads to see what the book was about, and since I'm a big fan of mythologies and ancient gods, I figured this book would be right down my alley.
The thing with reading a book that you knew would soon be adapted into a movie or a series, you can't help but imagine (even more strongly) who would play who and once you get the perfect cast for it, you can't help but really imagine this specific person and felt the characters really did came to life. I felt a strong kinship towards Shadow and Mr Ibis for reasons I could not fathom.
I really have to say, more than the story itself, I enjoyed the inserts or the outtakes that were in the book. It was definitely very interesting and I wondered did Gaiman ever wrote another story from those outtakes, because I would love to read it. To be honest, I was a bit taken with American Gods as it has a different style of writing compared to The Graveyard Book which was a bit tamed, but it does not mean I don't like this book, I might like it more than The Graveyard Book.
Moving on to my most favourite part in books; characters! I love all the characters in this book, although I was kind of hoping that the supposed evil side would have been more evil. Most of all, as was mentioned above my favourite was definitely Shadow and Mr Ibis.