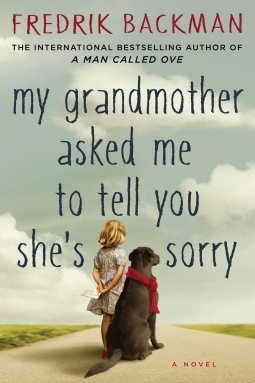 Elsa is seven years old and different. Her grandmother is seventy-seven years old and crazy, standing-on-the-balcony-firing-paintball-guns-at-men-who-want-to-talk-about-Jesus-crazy. She is also Elsa's best, and only, friend. At night Elsa takes refuge in her grandmother's stories, in the Land of Almost-Awake and the Kingdom of Miamas where everybody is different and nobody needs to be normal.
When Elsa's grandmother dies and leaves behind a series of letters apologizing to people she has wronged, Elsa's greatest adventure begins. Her grandmother's letters lead her to an apartment building full of drunks, monsters, attack dogs, and totally ordinary old crones, but also to the truth about fairytales and kingdoms and a grandmother like no other.
---
Can't believe that I would have the time to finally wrote this book review. Before I get on, I would like to share my desperation for a decent weekend a few days ago after going on a business trip from Monday to Friday. But, nope! Didn't happened the way I had planned it. At 5PM on a gloomy Friday evening, I was informed that I had to show up for work on both Saturday and Sunday. I was just too tired to even be angry. Next thing I knew, it was already Monday and tomorrow will be Tuesday, and the next day will be Wednesday and I'm pretty sure you'll get the gist. So, before Tuesday roll around, let me post my book review.
Here's what I think about the book. I thought this was going to be a light read, but then I end up getting confused. I can't tell which one is the reality and which one is the figment of imagination from Elsa's grandmother. It took me quite some time to actually understands what an astonishing book this is. I was going on a roller coaster ride with this book, with the exception that a real roller coaster ride is something that I actually enjoy while this book was more or less a mixture of loving the storyline but hating the character.
I can't, for the life of me, find myself liking or remotely sympathise with Elsa. And I should be sympathising with her; I lost my own Grandmother five years ago and it still not an easy experience for me to move on, imagine being someone as young as Elsa. But, good God, Elsa is a tough character to like. She's just annoying. She yells a lot (A LOT). And she can be very condescending when it comes to people's choice of reading. And I get that she's just a young child, but I just can't tolerate annoying children so that hopefully explains why I can't find a soft spot for Elsa, even after the books ends. That being said, I guess it means that the author did an incredible good job in creating a character such as Elsa, so I'll give him that.
One thing I can't tolerate from the book (by which, from the author also) is the huge amount of YELLING GOING ON IN THIS BOOK! Good God!!! It is such a tiring experience. I was reading this book at a time where I have so many work to do, I basically stayed late at the office most of the time, so to come home and hoping for a nice read before sleep only to be attacked by the amount of YELLING THAT THIS BOOK IS GIVING ME IS TOO MUCH TO HANDLE BY MY DELICATE BRAIN. But, hey, maybe it's just me. Maybe no one is complaining about it like I did.
Okay, more on the good stuff. The fairytales! Ah such nice fairytales. The ideas behind each fairytales and what truth hides behind each of them is just beautiful. The concept behind each fairytales and the the fairytales itself were the only reason I kept on reading this book, even after being dissuaded by the amount of YELLING AND THE FACT THAT I STILL FIND ELSA INCREDIBLY ANNOYING.
Questions! Does anybody know or have any idea what the secret language that Elsa, Elsa's Grandmother and Wolfheart is speaking? It says that the "secret language" was actually Wolfheart's mother tongue, but what could it be? Can someone please tell me?
In the mean time, if you ever read The Curious Incident of The Dog in the Night-Time by Mark Haddon or The Hundred-Year-Old Man Who Climbed Out the Window and Disappeared by Jonas Jonasson, and find it amusing and/or entertaining, you might want to give this book a try. Not entirely the same premise, but definitely is very entertaining and memorable in its own way. Oh, something cross my mind just now. Prepare a box of tissue, because you're about to cry your eyes out nearing the end of the book. I can't believe I literally cried reading this book, considering I was in the middle of a business trip and I was sleep deprived having been asleep almost at 2 AM everyday. Just, give this book a try if you're looking for a roller coaster ride of emotion.
---
Rating: ⭐️⭐️⭐️⭐️⭐️
Title: My Grandmother Asked Me to Tell You She's Sorry
Author: Fredrik Backman
Genre: Adult Fiction, Contemporary, Fantasy, Fiction, Humour