One of the hardest question I would have to answer when it comes to book is, "what makes a good book?"
To me, a good book is one that can bring me to tears, or at least close enough to it. Why? I'm dead inside. It's hard for me to express my emotion, other than anger, mind you.
To read a book that could move me to tears deserves more than a standing ovation from me. For reasons I don't quite understand, I want to compile a list of books that have brought me down to a puddle of mess by the time I finished reading it. In no particular order, let's all break down and cry over these books.
In no particular order
A God in Ruins by Kate Atkinson
I read this book twice and on both occasions, I cried, badly. What I remember the most when I first read this book was that I couldn't really understand my emotion well when I was done with it, but suddenly tears were pouring down my eyes. I was so overwhelmed with sadness, I had to calm myself down. I was crying for Teddy and his life. It was just beautifully written and executed, that I didn't mind crying for the second time.
---
The Next Together by Lauren James
Definitely a hard book to keep up when I first read it, but was a bumbling mess when I finished it. I was investing hard on both characters that I felt a sudden loss when the book ends.
---
The Nightingale by Kristin Hannah
This was a surprise for me, I came to read this book expecting it to be bad or lame, but I ended up sitting on the edge of my seat and (obviously) crying and be all depressed when it ends.
---
All the Light We Cannot See by Anthony Doerr
I am a complete mess over Werner Pfennig in this book. Read it the second time, and was still saddened by the turn of event.
---
A Man Called Ove by Fredrik Backman
Didn't expect to like it, but ended up crying halfway through the book and feeling warm hearted when I was finished with the book.
---
The First Fifteen Lives of Harry August by Claire North
Incredibly sad but also fast paced, I really was confused for a moment, should I be feeling gripped with fear of saddened by the story? I ended up feeling both.
---
A Constellation of Vital Phenomena by Anthony Marra
A story that expands for a couple of days but felt long enough that I felt some sort of kinship with the characters that I cry together, with, and for them.
---
The Last Battle, by C. S. Lewis
This was a bit personal, to have one of my favourite series comes to an end was hard for me to take, and the ending for three of the Pevensies was to me a bit brutal but also marks the step to adulthood for me (although at 29, I'm still not sure if I've done adulting correctly).
---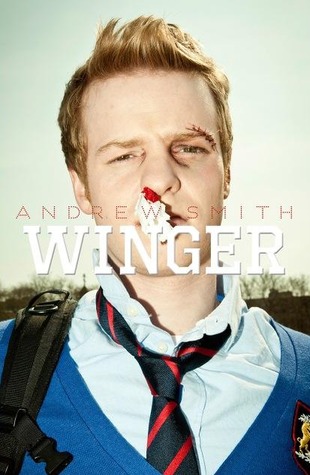 Winger by Andrew Smith
There was one part in the book that to me was just so dark and disturbing that I felt some part of myself was dead for awhile, and I wept for quite some time.
---
Stargirl by Jerry Spinelli
It felt like your heart was broken into so many small pieces that there's no way you can piece it back together and feel normal afterwards, that was how sad it was for me.
---
The Ghost by Robert Smith
This was so sad because I was rooting for the main character the whole time. To have that ending, I felt empty and sad for quite some time.
---
Kafka on the Shore by Haruki Murakami
Read the book by accident but I ended up unable to put it down and by the time I was finished, I was overcome by multitude feelings of immense sadness. My first venture into Murakami.